NVC Summerfest 2015
31st July – 6th August, Somerset
Now in its second year, the NVC Summerfest delivers fun, learning and community to families and singles alike. This year we're hiring Radford Mill, a beautiful venue with a stream to paddle in and a Mill garden with living willow sculptures!
Level: Any.
Trainers: Shantigarbha, Penny Spawforth, Cath Burke (certified trainers) and others tba.
Further information and booking: www.NVCSummerfest.com



NVC Year Programme: Self-Development to Social Change
Module One starts 24th September, Gloucs.
Caring for yourself and the world. Five 3-day modules between September 2015 and June 2016.
Trainers: Shantigarbha as 'anchor', with a different guest trainer at each module: Gina Lawrie (the inner dance, Beauty of Needs), Sylvia Haskvitz (Eat by Choice, not by habit),

Kirsten Kristensen (From Guilt and Shame to Freedom), Sabine Geiger (Body NVC, Restorative Circles), and Shona Cameron (NVC in schools as social change).
* Opportunities for healing and learning a process you can use to support others.
* Developing your communication skills to improve relationships at home and work.
* Learning and support from fellow-participants in an on-going NVC community.
* Ideas and support to create the kind of world you want to live in.
Further information
Modules and Trainers
Dates and Venue
General Information
Fee and Deposit
YP 2015/16 Application Form
Dear friends,
Last year at the Bristol NVC Convention we recorded two of my sessions. Here they are. I'd love to hear your feedback.
Love and life, Shantigarbha
Empathy Archery session with Shantigarbha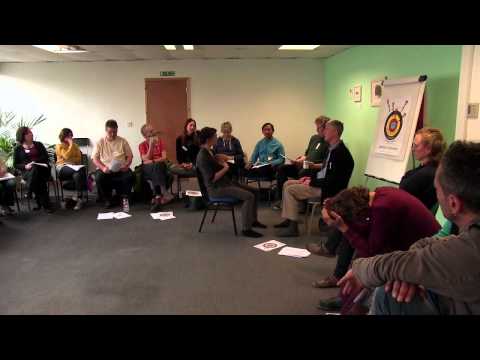 Embodied NVC session with Shantigarbha
3-Minute Mindfulness Exercise with Shantigarbha This is extracted from the above sessions.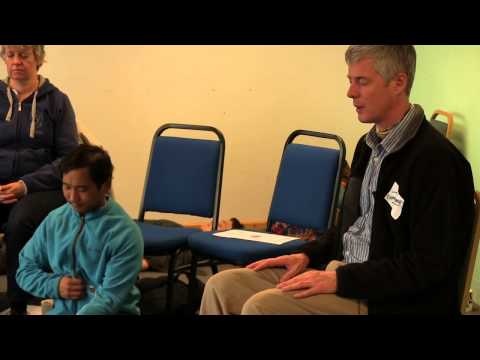 Let's celebrate the excitement and inspiration of the Indian NVC Convention, 2014! It was held at the Mariarani Centre, Thiruvananthapuram (Trivandrum) Kerala. There were eight international NVC trainers and 200 participants!
Let's celebrate deep learning and deep healing together!
Let's celebrate community and discussions about how to make this community sustainable in India.
Let's celebrate:
Creating an Indian NVC Convention with a diverse collection of trainers who bring many different applications of NVC to all people living in India.

Making the convention part of the Gift Culture, to create opportunities for all people in India to take part in NVC training by making it financial accessible.

Creating a meeting place for place for people living inside and outside of India, celebrating and welcoming the diversity of our international community.

Creating a Restorative system within the convention and using it
Deep thanks to the trainers: Marion Guerin, Sabine Geiger, Chris Rajendram, Shantigarbha, Stefan Gebert, Emma Collins, Simran Wester, Kirsten Kristensen.
And deep thanks to the Prep Team, which included Emma Collins, Hemma Wuthrich-Haunschmidts, Shammi Nanda, Sudha Shankar, Stefan Gebert, Ranjitha Jeurkar and Amy Diener.
Love and life, Shantigarbha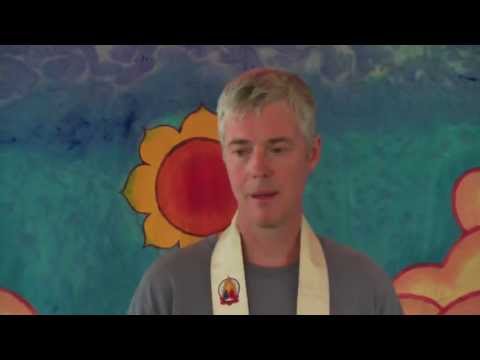 Here's a talk at wonderfully sunny Buddhafield Festival 2013 on 'The Empathic Buddha'.
How did the Buddha embody empathy? How did he make it the basis of compassion? I recount a number of incidents from the life of the Buddha, share my understanding of empathy in a Buddhist context, and explore how empathy is the basis for both compassion and ethics. I hope you find it helpful.
Love and life, Shantigarbha
How do we bring compassion to our daily lives? This retreat will combine:
Meditation sessions including guided reflections and open sits.
Nonviolent Communication (NVC) exercises to bring empathy and compassion into our everyday lives and relationships.
Stories from the life of the Buddha: how did he embody empathy? How did he make empathy the basis of ethics and compassion?
How do we develop empathy for those we love and extend it even to our enemies?
Time at the Bodhi Tree and absorbing the special atmosphere of Bodh Gaya at this time of year.
Led by Shantigarbha (internationally certified with the Centre for Nonviolent Communication and long-time member of the Triratna Buddhist Order)
Location: Three Jewels Centre, Bodh Gaya, Bihar, India.
Languages: This retreat will be conducted in English and Hindi.
Dates for this retreat
Start: Saturday 28th December, 2013 with an evening meal.
End: Friday 3rd January 2014 at midday.
This retreat is immediately followed by a 'Living Compassion' Locals' Retreat for 100-150 Biharis. The 'Locals' Retreat runs from Friday 3rd Jan. – Sunday 5th Jan. You are invited to stay on and support this Locals' Retreat. Accommodation and food charges apply for the Locals Retreat.
Our financial principles
We want to contribute to life. To this end, we would like to:
(i) make this retreat part of the Gift (Dana) Economy. The leader/trainer, Shantigarbha, is giving his time and energy for free. If there is a surplus, it will be split between him and the Three Jewels Centre.
(ii) support the local people of Bodh Gaya. Our aim is for the Living Compassion retreat to provide funding and infrastructure for a 2-day Locals' Retreat that immediately follows. The retreat will include meditation, Communication exercises and Buddhist ritual. Our understanding is that the local Biharis are unable to pay for retreats, so we are planning to offer this retreat to them for free.
See http://seedofpeace.org/?p=2333 for more details and how to book on this retreat.
Love and life.