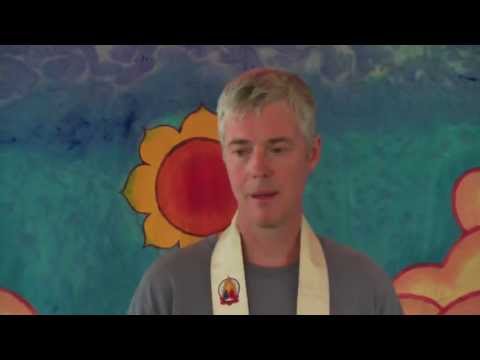 Here's a talk at wonderfully sunny Buddhafield Festival 2013 on 'The Empathic Buddha'.
How did the Buddha embody empathy? How did he make it the basis of compassion? I recount a number of incidents from the life of the Buddha, share my understanding of empathy in a Buddhist context, and explore how empathy is the basis for both compassion and ethics. I hope you find it helpful.
Love and life.
Hi All, I've been working this over the summer and now I'm ready to share it with the world!
<![if !IE]><![endif]>
The Tree is a way of understanding the 'Big Picture' including the intention to connect compassionately and the specific skills of self-empathy, empathy and self-expression. Compassionate connection means connecting in ways that lead to everyone's needs being valued and met. The image makes it clear that the intention to connect compassionately is the heart wood of this tree. It also makes clear that self-empathy is the roots of the tree. In our inner world we reach down and outwards in self-connection. In the outer world we reach up and outwards to connect with others in empathy and self-expression. There is a relationship between the roots and the branches. The extent to which we have grown the roots of self-empathy corresponds to the extent to which we can reach out to others through empathy and expression.
A story illustrates the importance of the 'roots' of self-connection. The Eden Project in Cornwall, UK is home to the two largest 'biomes' in the world. Since 2001 these giant conservatories have housed various tropical and Mediterranean trees. In recent years a number of the trees have fallen down, much to the surprise of the Eden Project's creators. Why was this? Surely these trees were some of the most protected in the world. When they did an 'autopsy' on the trees, they found that they had no roots to speak of! Growing up in giant conservatories, the trees never felt the wind, so they didn't develop roots. No wind, no roots! It turns out that some wind is necessary for the stability of the organism. Without it, a tree won't feel its roots challenged, and put effort into developing deeper and wider roots. Too much wind at any time may still blow the tree over or distort its growing shape. However if there's no wind, there will be no roots!
For printable versions, go to Resources.
Love and life, Shantigarbha
I was interviewed as part of a documentary about the 9-Day NVC training I co-organised and co-led in January on the West Bank. If I look rather intense, I think it was the crying that I was doing. With love and respect, Shantigarbha
Here's how my trip to Israel/Palestine and India/Sri Lanka unfolded in emails, notes and Facebook updates…
Dec 22. I'm getting excited about the Israeli/Palestinian training we're running over the New Year. Flying on Monday to Tel Aviv. About 100 people coming! Ten people on the training team. Feeling hopeful of sharing compassion! And preparing for an encounter with my own personal demons: 'enemy images' of both Israelis and Palestinians, as well as the 'spectre' of the treatment of the Jews under the Nazis that had cast a long shadow over my adolescence and my faith in humanity.
Dec 27. Staying in Jerusalem – fascinating monuments and history! Walked through the Old City, enjoying the mix of Arab and Western cultures. Saw crowds of people praying at the West Wall underneath the Dome of the Rock. Team meeting tonight and tomorrow. Training starts the day after tomorrow in the desert near the Dead Sea.. Excited to see who comes.
Dec 29. The big day! Arrived at EcoME, the venue between Jericho and the Dead Sea. About 80 people in the opening circle, more coming tomorrow. Lovely to see and speak to Arabs, Jews and people from overseas. Delighted with people's responses to the opening session and to work with Sylvia, Roberta, Hagit and the team. Feeling hopeful of contributing and making friends.
Dec 30. The desert is surprisingly cold. I'm wearing my thermal underwear except for the middle of the day. The accommodation at EcoME is basic, the food fresh and tasty. At this morning's Community Gathering, I read Rumi's poem: 'Out Beyond ideas of wrongdoing and rightdoing, there is a place, I'll meet you there.' It seemed the perfect introduction to the training from an Arabic poet. I was in touch with a sense of deep love and a desire to contribute to everyone's welfare. One of the participants from Jordan asked me what I do for a living. I replied that I travel and teach NVC. She said, "That's a wonderful life." This evening: laughter, enthusiastic Kabbalat Shabbat music, muslim prayer, Dubke dancing, tears, deep listening. We're forging connections between Jews and Arabs.
Dec 31. New Year's Eve in the desert, just north of the Dead Sea. A pretend Palestinian wedding (learned circle dances), Jewish songs, fire ceremony, deep empathy, mourning, celebration, the sky and moon. Giving and receiving deep empathy. I love the opportunity I have here to learn, connect and contribute.
Jan 2. Loved facilitating the community gatherings today: felt ease, confidence and playfulness. enjoyed support of team in many ways: with food, washing, recharging my phone, massage and hugs. Feeling blessed tonight
Jan 5. Seven days into the 9-day residential training for Israelis and Palestinians here in Israel/Palestine. I facilitated a 'Restorative Circle' for the whole community on the topic of the Wall. Loved contributing and embodying compassion in this way. Touched the depths of pain and fear on both sides. When people are in deep pain, it's deeply difficult for them to hear the other's pain. We heard from a person of Jewish origin about a lost dream: of living in peace and security in Israel. For him, this pain was added to the pain of seeing how Palestinians have suffered in relation to the Israeli govt. policies. I felt hopelessness and despair, imagining that this pain never gets healed, it just gets moved around from person to person and region to region. I wept for 30 minutes while the circle continued with someone else facilitating. Process continues: still listening…
Jan 7. Last day. Haunting spontaneous gospel singing at breakfast. Found myself singing 'Amen' with dignity and awe. A team member told me that he looked across at me this morning and my face had become the image of compassion. In the closing circle I said that my heart had been touched in many different ways over the nine days. I said that I had loved being part of the process in the team, and supporting and caring for this community, and that in caring for this community, I was caring for myself. Immediately after the closing circle, the team went into a spontaneous huddle. We held onto each other in shock and overwhelm. We couldn't believe that we'd come through, that we'd survived. We all wanted to acknowledge that we'd been scared at times. We couldn't believe that we'd created something that was much bigger than ourselves, and that we were still a central part of it!
Jan 8. The day after. Last night I and the rest of the training team went to a cafe to celebrate the end of the training and divide up the money. As we had over 100 participants over the course of the nine days, there was a lot money than we expected. We had rolls of Israeli banknotes sitting on the table. Someone said, "How much do we give the getaway driver, we gotta pay the getaway driver", and suddenly it seemed like we were in a film and we'd just robbed a bank, and we were sitting in a local cafe to divide up the loot. I hope this communicates something of the amazement and even shock that I and the rest of the training team feel to have been part of something so 'big' in numbers and in transformative impact. I can't remember how many people, including myself, who said that their hearts had opened through the process, and that they felt more hope where before they had felt despair. And I can't remember how many heart-to-heart hugs I had with people who thanked me for coming to Israel/Palestine and wished to see me again.
Jan 9. Last night I dreamt of being in a team meeting! A reflection of the amount of time we've met and the intensity of our support and collaboration in the last three months. Feel like I've been superglued to the rest of the EcoME team by the intensity of what we went through, and how we held and supported each other. I think that my heart has got bigger! I'm sure that putting myself in such challenging situations lends itself to developing compassion. That's how it feels at the moment, anyway. Going to have a rest for the next few days by the Dead Sea before going on to staffing on the Indian NVC convention. Now I can wear clean clothes again, and take off my thermal underwear!
Donate to continue this work.
Be kept informed of future NVC trainings in Israel/Palestine.
Book an NVC training with Shantigarbha
Then on to India and Sri Lanka…
Jan 12. Arrived this evening in Orissa from Israel/Palestine for the Indian NVC Convention. Tired from travel and stomach sickness. And happy to have finished travelling for now and see people I love. Also delighted that I can hear the ocean from my bedroom here
Resting…
Jan 18. Facilitated a group healing pain related to caste issues today. Heard about caste-related violence in the nearby district of Kandhamal. Around 40 deaths and many houses burnt down. Was delighted to contribute by offering deep listening. Mourning and a sense of inner peace and connection.
Jan 19. Facilitated an 'inter-caste dialogue'. Was listening to a 'Dalit' (designated as a member of the 'Scheduled Castes') speaking about caste-related events that he felt deep anger and pain about. Realised I was afraid to look into his eyes, to protect myself from the pain. Did some self-empathy:
I want to protect myself *and* I want connection. Looked into his eyes. Suddenly something seemed to shift in him and me. We'd re-established connection, in the midst of deep pain. Sat with him at lunch afterwards and heard about his family and job.
Jan 24. We've just finished the Indian NVC convention at Gopalpur-on-Sea in Orissa. I and the rest of the team are delighted with the response from the participants. My trainer colleague Godfrey Spencer said, "One thing struck me about Indian groups of learners: they have unbounded capacity for silence. I have never before experienced such centredness in a whole group, eager to learn, eager to integrate." I heard several participants describe it as a life-changing experience. I loved the venue of Gopalpur with its relatively clean and unbuilt beach. Ah, the sea, the sea! The freshness, the beauty, the comfort of its roar at night…
Now I'm going to Auroville for a rest for a few days, then on to Sri Lanka, where I'll be running a 5-day training for 30 people who are training / want to train people in NVC. Love and peace to all, Shantigarbha
Jan 24. On 17 hour train journey from Berhampur to Chennai. Sleeping and dozing until I get a sore hip, then turning over. Outside flooded paddy fields in sunlight, water buffalo, people, small villages, chickens and small rounded mountains in the distance. Two men snoring in our sleeping compartment. Cold legs from the AC, which we can't switch off. More later, SGxxx
Jan 25. Resting at Joy Guest House in Auroville.
Jan 30. I've arrived safely in Sri Lanka and been taken to the training venue. It's by the sea in Colombo. The temperature is 32 degrees (actually I quite like it) and there's a strong wind coming off the sea. Relaxing this evening and looking after my sore throat before starting a 5-day training for 30 NVC trainers tomorrow.
Feb 1. With a group of people of Tamil origin from areas affected by the war. I've got five days to help them mourn their losses.
Feb 3. Watched a former LTTE combatant who still has shrapnel in his brain (too delicate to operate on) having a fit, held down by five friends. Felt strangely calm and loving as he tried to thrash about. In a group photo I've got my hands on the shoulders of another former LTTE combatant. He lost both arms above the elbow. These are some of the physical consequences. The emotional consequences of losing friends, relatives and dreams are less easily visible, and as deep. Another former LTTE combatant said that losing his leg above the knee was ok, but losing his three closest friends from childhood was a unbearable as he didn't have their daily friendship and support.
Feb 4. Now they're celebrating! Witnessed Tamil singing competition. Two teams, singing songs in turn. The first word of the new song has to begin with the last letter of the last word of the previous song. A seriously challenging way to celebrate!
Feb 10. Back in the UK. Snow on the ground. Everything is so easy and comfortable here. Missing the intense closeness of the last five weeks in the Middle East and Asia.
Love and peace, Shantigarbha
Trainers
Shantigarbha (UK) www.seedofpeace.org
Roberta Wall (USA) www.steps2peace.com
Hagit Lifshitz (Israel) www.mifgash.org.il
Tarek Maassarani (USA): www.american.edu/sis/faculty/maassara.cfm
Sylvia Haskvitz (USA): www.ccjewishsoul.com and http://www.eatbychoice.net/
Guest trainer: Nafez Assaily (Hebron): http://en.wikipedia.org/wiki/Nafez_Assaily
This is an international retreat with an international team of trainers. We plan to be 50-60 people, living communally for nine days. We wish to respect and accommodate all religions and nationalities, so special food needs, prayer time and observance of Jews, Moslems and Christians will be respected. This training will be accessible to you if you speak English, Arabic or Hebrew. If you wish to support peace building and peace activists from all sides – please seriously consider applying. And please tell your friends and colleagues too!
To view the Brochure online, please click here: http://bit.ly/q8qZox
To view the Application Form, please click here: http://bit.ly/p5vlta
To view the Invitation Letter to people living outside of the region, please click here: http://bit.ly/o8Uoln
To view the Invitation Letter to organizations, please click here: http://bit.ly/oququV
To view the Fundraising Letter, please click here: http://bit.ly/qQ2fYp
More info here: http://seedofpeace.org/?p=1627