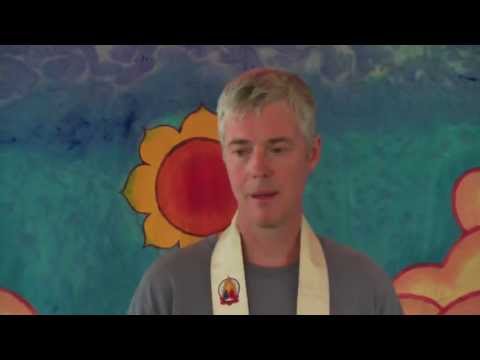 Here's my talk at wonderfully sunny Buddhafield Festival 2013 on 'The Empathic Buddha'.
How did the Buddha embody empathy? How did he make it the basis of compassion? I recount a number of incidents from the life of the Buddha, share my understanding of empathy in a Buddhist context, and explore how empathy is the basis for both compassion and ethics. I hope you find it helpful.
Love and life, Shantigarbha
How do we really live compassion in our lives? This retreat will combine:
Meditation sessions including guided reflections and open sits.
Nonviolent Communication (NVC) exercises to bring empathy and compassion into our everyday lives and relationships.
Stories from the life of the Buddha: how did he embody empathy? How did he make empathy the basis of ethics and compassion?
How do we develop empathy for those we love and extend it even to our enemies?
Time at the Bodhi Tree and absorbing the special atmosphere of Bodh Gaya at this time of year.
Led by Shantigarbha (internationally certified with the Centre for Nonviolent Communication and long-time member of the Triratna Buddhist Order)
Location: Three Jewels Centre, Bodh Gaya, Bihar, India.
Languages: This retreat will be conducted in English and Hindi.
Dates for this retreat
Start: Saturday 28th December, 2013 with an evening meal.
End: Friday 3rd January 2014 at midday.
This retreat is immediately followed by a 'Living Compassion' Locals' Retreat for 100-150 Biharis. The 'Locals' Retreat runs from Friday 3rd Jan. – Sunday 5th Jan. You are invited to stay on and support this Locals' Retreat. Accommodation and food charges apply for the Locals Retreat.
Our financial principles
We want to contribute to life. To this end, we would like to:
(i) make this retreat part of the Gift (Dana) Economy. The leader/trainer, Shantigarbha, is giving his time and energy for free. If there is a surplus, it will be split between him and the Three Jewels Centre.
(ii) support the local people of Bodh Gaya. Our aim is for the Living Compassion retreat to provide funding and infrastructure for a 2-day Locals' Retreat that immediately follows. The retreat will include meditation, Communication exercises and Buddhist ritual. Our understanding is that the local Biharis are unable to pay for retreats, so we are planning to offer this retreat to them for free.
See http://seedofpeace.org/?p=2333 for more details and how to book on this retreat.
Love and life, Shantigarbha
Shantigarbha's Forthcoming trainings (see Training Diary for more info)
* July 17-21st, UK: Buddhafield Festival: talk and workshops.
* Aug 16-18th, UK: Network of Buddhist Organizations conference.
* Aug 20-26th, UK: Rainbow Mill Summer Camp
* Sept 7-8th, Bristol, UK: NVC Deepening + Empathy Training
* Sept 24th onwards, Bristol, UK: Mindful Communication course (six weeks)
* Oct 11-13th, Devon, UK: NVC Foundation Training
* Oct 25-27th, London, UK: Empathy and Compassion conference
* Nov 16-17th, Plymouth State University, NH: Basic Training
* Nov 23-24th, Plymouth State University, NH: Deepening + Empathy
* Dec 28th – Jan 3rd, 2014: Bodh Gaya, India: Living Compassion retreat.
2014
* Jan 9-10, Kochi, India: Lifelong Learning Foundation Convention
* Jan 12-18th 2014, Trivandrum, Kerala: Indian NVC Convention
* Jan 30-Feb 2nd, Auroville, India
Dear friends,
I'd like to share my celebration of the recent Kochi NVC Convention. I loved working with the training team and sharing NVC with 120 inspired participants. Here are some of Carl Plesner's beautiful pictures:
For those of you who are in the Pune area, I'm offering an 'Advanced' NVC training on Feb 19-20th. Information here.
Love and life, Shantigarbha
We're delighted to announce the 'Bringing NVC to Life' convention is coming next May. NVC West invites NVCers from UK/Europe to Giraffic Park in Bristol! A chance to learn and share with NVC trainers and practitioners from Bristol and around the world.
Confirmed trainers include (see below for trainers' bios and pictures):
Robert Gonzales, USA (Saturday morning only) (Living Compassion) on 'The living energy and beauty of needs'.
Shantigarbha, UK (SeedofPeace.org) on 'Empathy Archery' and 'Embodied NVC'.
Kirsten Kristensen, Denmark (www.kommunikationforlivet.dk) on 'Guilt, Shame and Freedom', and 'From Scarcity to Abundance'.
Godfrey Spencer, Belgium (Girasol) on 'Talking with someone you have difficulties with'.
Sabine Geiger, Germany (bodynvc.weebly.com) on Body NVC© – Connecting Body and Mind.
Karl Smerecnik, UK (invitingcompassion.com) on 'Deepening into Self-Compassion'.
Full description of sessions and trainers now available
View here
Dates: 11–12th May, 2013
Venue: Bristol, UK
Suitable for: This event is open to people of all levels of NVC experience.
More details and how to register.
The UN are currently promoting a campaign called 'A Culture of Peace'. Here's what the head of the sociology department at the Pontifical Catholic University in Porto Alegre, Brazil, had to say about the role of NVC in the UN campaign:
NVC provides the ethical compass for a Culture of Peace.
We hope you'll join us at some of these events to build a culture of peace.
Love and life, Shantigarbha
PS I've signed a contract with a US literary agent for my book 'A Path to Empathy', so hopefully a publishing deal isn't far away!
Hi All, I've been working this over the summer and now I'm ready to share it with the world!
<![if !IE]><![endif]>
The Tree is a way of understanding the 'Big Picture' including the intention to connect compassionately and the specific skills of self-empathy, empathy and self-expression. Compassionate connection means connecting in ways that lead to everyone's needs being valued and met. The image makes it clear that the intention to connect compassionately is the heart wood of this tree. It also makes clear that self-empathy is the roots of the tree. In our inner world we reach down and outwards in self-connection. In the outer world we reach up and outwards to connect with others in empathy and self-expression. There is a relationship between the roots and the branches. The extent to which we have grown the roots of self-empathy corresponds to the extent to which we can reach out to others through empathy and expression.
A story illustrates the importance of the 'roots' of self-connection. The Eden Project in Cornwall, UK is home to the two largest 'biomes' in the world. Since 2001 these giant conservatories have housed various tropical and Mediterranean trees. In recent years a number of the trees have fallen down, much to the surprise of the Eden Project's creators. Why was this? Surely these trees were some of the most protected in the world. When they did an 'autopsy' on the trees, they found that they had no roots to speak of! Growing up in giant conservatories, the trees never felt the wind, so they didn't develop roots. No wind, no roots! It turns out that some wind is necessary for the stability of the organism. Without it, a tree won't feel its roots challenged, and put effort into developing deeper and wider roots. Too much wind at any time may still blow the tree over or distort its growing shape. However if there's no wind, there will be no roots!
For printable versions, go to Resources.
Love and life, Shantigarbha