NVC Summerfest 2015
31st July – 6th August, Somerset
Now in its second year, the NVC Summerfest delivers fun, learning and community to families and singles alike. This year we're hiring Radford Mill, a beautiful venue with a stream to paddle in and a Mill garden with living willow sculptures!
Level: Any.
Trainers: Shantigarbha, Penny Spawforth, Cath Burke (certified trainers) and others tba.
Further information and booking: www.NVCSummerfest.com

NVC Year Programme: Self-Development to Social Change
Module One starts 24th September, Gloucs.
Caring for yourself and the world. Five 3-day modules between September 2015 and June 2016.
Trainers: Shantigarbha as 'anchor', with a different guest trainer at each module: Gina Lawrie (the inner dance, Beauty of Needs), Sylvia Haskvitz (Eat by Choice, not by habit),
Kirsten Kristensen (From Guilt and Shame to Freedom), Sabine Geiger (Body NVC, Restorative Circles), and Shona Cameron (NVC in schools as social change).
* Opportunities for healing and learning a process you can use to support others.
* Developing your communication skills to improve relationships at home and work.
* Learning and support from fellow-participants in an on-going NVC community.
* Ideas and support to create the kind of world you want to live in.

Dear friends,
Last year at the Bristol NVC Convention we recorded two of my sessions. Here they are. I'd love to hear your feedback.
Love and life, Shantigarbha
Empathy Archery session with Shantigarbha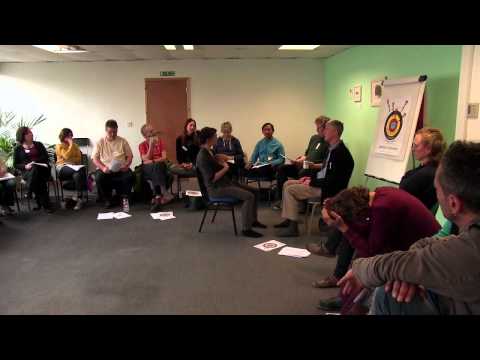 Embodied NVC session with Shantigarbha
3-Minute Mindfulness Exercise with Shantigarbha This is extracted from the above sessions.